Main content starts here, tab to start navigating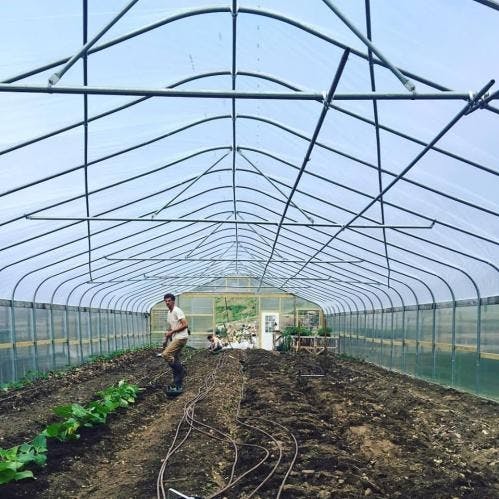 Purdy's Farm
Our four acre farm "Purdy's Farm" is located next to our restaurant Purdy's Farmer & The Fish in North Salem and supplies all of our restaurants produce. We aim to grow and serve the freshest, most nutrient packed, and sustainable food around. We harvest vegetables seven days a week and bring them straight from the farm into the back door of the kitchen. To help close the nutrient cycle from farm to kitchen, we compost our pre-consumer food waste and use that material, along with natural rock minerals, to feed the soil ecosystem, which feeds the plants and then us. We even make our own fertilizer every year with seaweed and unused fish parts. The plants we grow on the farm are reliant on the diverse biology underground, and we go to a great deal of effort to support the soil life and reap the rewards of all those great earthworm castings under the mulch.
Our hydroponic greenhouse allows us to grow salad greens, bibb lettuce, herbs, and micro greens year round. The 1,100 square foot greenhouse features 6 energy efficient LED lights and 2 high pressure sodium lights. A 4,000 gallon rain water tank captures water from the greenhouse gutters which is then used for hydroponic growing. Greenhouse pest control is through biological controls, no sprays are used.
A second 600 square foot raised bed greenhouse allows us more diversity on our menu in the winter months.
Our 3,000 sqare foot high tunnel enables us to get an early start as well as extend our growing season. It also provides over-wintering storage for crops such as carrots and parsnips.
Four acres are under cultivation on the farm, with the majority of the fields terraced. Our fields are low or no till, no spray, no chemical fertilizers and non GMO.
Storage of autum squash, onions, potatoes, leeks, cabbage, parnsips and more is provided by a turn of the century root cellar.
6 bee hives take residence at the top of the hill. We share the honey with beekeeper Eric and offer it for sale in our Farm Shop. We also use the honey in specialty beer production with Chatham Brewing.
In addition to vegetable production, our farm is home to peaches, plums, raspberries, strawberries, blueberries and blackberries. A selection of lemon verbena, chamomille, and hibiscus are also grown for tea available for purchase in our Farm Shop.